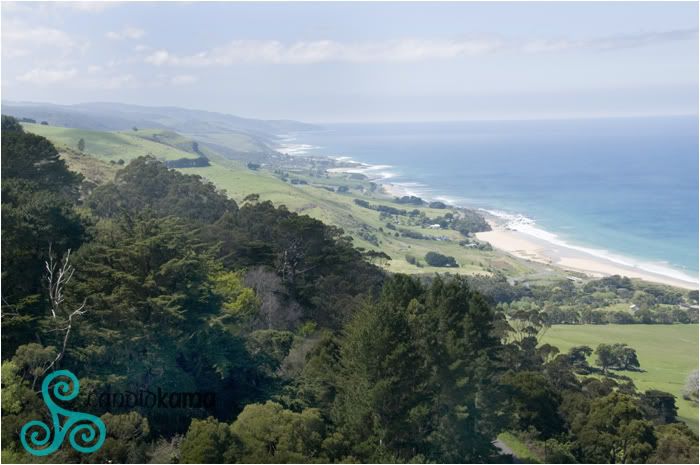 As we made our way out of Apollo Bay, headed back to the Ocean Grove area, we had to make one quick stop. We drove this little road up the hill to see this view and it was worth it. One of the things I have to say that I loved about Australia is there is so much land untouched by subdivisions, hotels, you name it…it's just as it was and it stands beautiful. Not like here in the states where everything is so over done to the point where it looses it's natural beauty.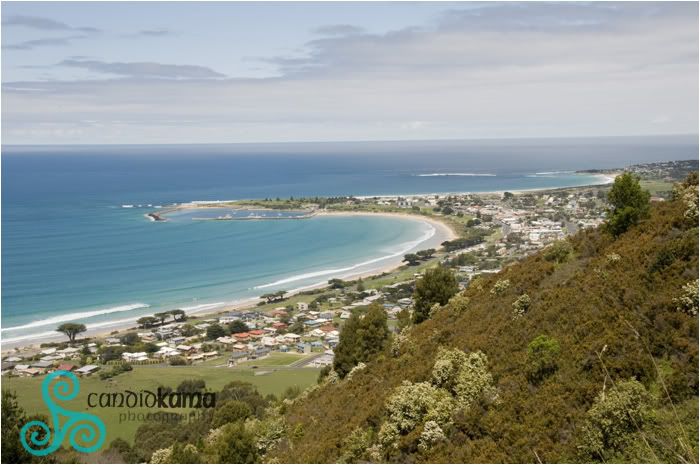 This viewing area was just above where we had spent the last two nights. It was a great vantage point.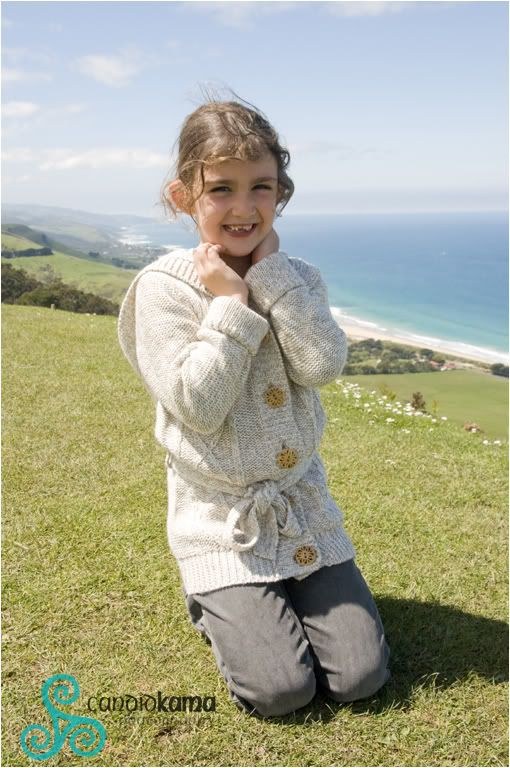 Grace was working the camera and I didn't even ask her too. She's a natural.
We managed to get a photo of all of us by another onlooker who was gracious enough to take a couple of photos of us. Why am I barefoot…..well let's just say I'm the only one that stepped in a big puddle of mud….yeah!
Craig and Claire have this little thing they do so well together..I have to admit, it would leave me holding my breath until she was back in his arms again, but time and time again, she went up so high and he caught her and she laughed and giggled with glee.
As we were driving through one of the towns on the way home, I couldn't believe my eyes when I looked out of the car window and up on this apartment balcony were these native Cockatoo's. Just another awesome thing…..
So back in town….one afternoon Sarah and I went to a local vineyard that is right by their home called Oakdene. It was filled with different type's of eclectic art, and the main house hosts a intimate dining area and can hold small parties.
I wasn't about to go home empty handed without one of these bottles, so while the guy's and kids were off running an errand, Sarah and I went to sample some of the different wine's they offered. We enjoyed our bottle last Thanksgiving with our family to enjoy.
Seeing as it was early spring in October, the grapes on the vine's were just barely visible…..I'm sure they are in full grown grapes now and nearing the end of another season.
Just some things that caught my eye…….
The rest of the gang picked us up and we went just up the road to the local nursery. Not only do they have these gorgeous nursery's, but it's rather common that they have a little cafe where people come to relax and have a snack.
Oh yes, found me a cool statue in the nursery, tried to figure out a means of getting it in my suitcase, but it just wasn't happening!
This was my tasty little treat, took the chill I felt right away.
Ephram, Claire and Grace enjoyed running around the nursery and playing and sharing some cookies with each other. It was hard enough just to get them to leave. Good thing for Sarah and Craig, you can walk to the nursery from their home.
More to come from Australia!