A few year's ago I started following the blog of photographer Janine Walker of Northern Ireland. http://www.janinewalkersblog.com/ I adore her work. She has a skill for taking such intimate images. Yea, you could say that she is someone I look up too in the world of photographers.
If you know me, I love all things Ireland, it's part of my heritage, so over the last couple of year's I've had the chance to talk with Janine online and get to know her a little. We had tried to meet up two years ago while in Ireland for a session, but our schedules didn't work out, but finally an opportunity came.
Janine's immediate family live's in Pennsylvania, so Marty, Ephram and I made the 5 hour drive up there recently to meet with Janine who was visiting from Ireland for the holiday. We had the pleasure of meeting some of her family who were such a delight. The kind of people you could sit down and talk too for hours on end and feel right at home.
For me, one of the reason's I love taking photos of my family, friends and clients is because I realize the importance of History in the making….you can never get those days back, but a photo will last with the memory. Times change, people change, but memories are always deep within us and having a photo to remember it by is everything……
Since becoming a mom three year's ago, I knew how fast things would change as our little guy grew up on us. Those first days, to the first years and so on….as a photographer, of course I have taken images of him, but it's something different to allow someone else to step in and do that for you.
As I've taken countless photos of other's, it occurred to me that I was missing out on that with my own family and how important that is to me. It made me sad thinking back that those first weeks were never captured as a family with us and how upsetting that was. You can't get that back. And year's have passed now and I thought it was time to finally have our family portrait done.
It's very intimidating being on the other side of the camera, isn't my strong suit, but Janine had an ease about her that made you forget about the camera in your face. I have an even better understanding of what my clients go through during a session and that is why I try hard to make them comfortable and just have fun with it.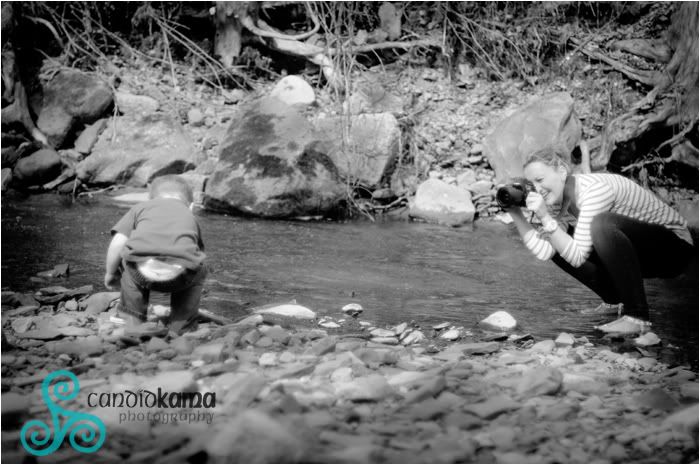 Here is a photo of Janine in action taking some photos during our session in this adorable little creek.
So I want to say Thank You Janine for taking time out of your holiday to finally meet up with us.I sincerely appreciate that. We had such a wonderful afternoon hanging out. We had some great chats and some laughs. And now I can have this keepsake memory of this time in our lives, I will always cherish. Thank you my friend!
Check out Janine's blog for more images of our session and her beautiful work!