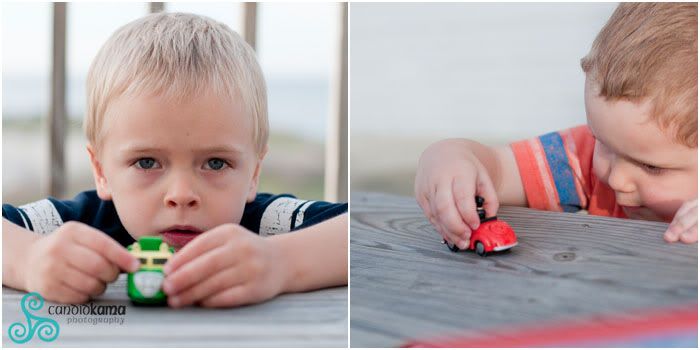 Since we were in The Outer Banks for the wedding of Erika and Kevin, we were fortunate enough to stay with family while there. My sister and her family welcomed us into their home. We were so excited to spend time with them. Ephram got to meet his cousin Logan who is just over one month older than he is. They both LOVE Thomas The Train.
Lori and Brian relaxing on the beach for a bit. I can't imagine how nice it must be to live so close to the ocean. Brian is in the Coast Guard, so they will always have the ocean near them. Can't go wrong there.
This is Aliana, or as she is called, Ali. She was too adorable. She gave me
baby fever for sure. She was such a smiler.
We had met Brian a few years ago briefly, so it was great getting to know him
better. It was interesting hearing about his job and just life in The OBX.
One thing I know I will miss as Ephram grows up is moments like this, where we are
still able to lift them up high….seeing Lori with Logan here and Ali below…..I just
realized how quickly that time goes. They only stay tiny for a short matter of time. Not nearly long enough.
As I shot these separate photos, I wasn't even trying for this image, but she was such a 'peek-a-book' looking over, I couldn't resist.
Wow…..your a Mama Lori…….look how far we've come!
I'm so happy that Brian and Lori found each other……it wasn't hard to see the happiness in them both when they are around each other and the children.
The morning we left, I was getting some last shots of the kids. Ali was just a handful of
expressions and she topped it off with this. Priceless!
It was a whirlwind of a trip, fun in the sun, time on the beach, bonding with family and an awesome wedding to boot…..so glad that it all worked out that we could spend time together. Can't wait to see you all again soon!