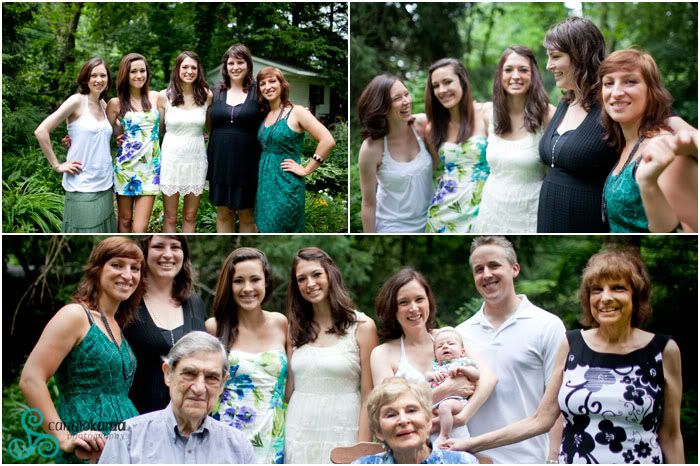 It has to be said that being able to photograph families is something special to me. As generations come and go, each photograph is creating a part of History, no matter the occasion. I got to take part in making a little History for this wonderful family recently. Many had come into town to celebrate the graduation of Caroline, who I recently posted her senior photos. Her grandparents came from North Carolina, as well as some other family members coming from all over the country.
This is Marvin and Shirley, a very sweet couple.
As I took some photos of them, I couldn't help but to notice that Shirley kept
looking up at Marvin…clearly he is her rock.
This family radiates beauty. I was told that there hasn't been a boy born into the family in over 50 years….from the top left is Mariah, Caroline, Hannah, and Emily and Isabel on the bottom.
Four generations! Emily recently gave birth to Olivia. Here the two grandma's watch over them.
Caroline and Lydia giving Emily and Olivia much love……she's one lucky little girl.
Kyle, you are melting me here……
Emily and Caroline's mother, Lydia.
The new family….
Look at that pout…..
Congrats again Kyle and Emily on the arrival of Olivia, she's gorgeous! And congrats to Caroline on your graduation. It was great spending some time with your family on such a joyous occasion.