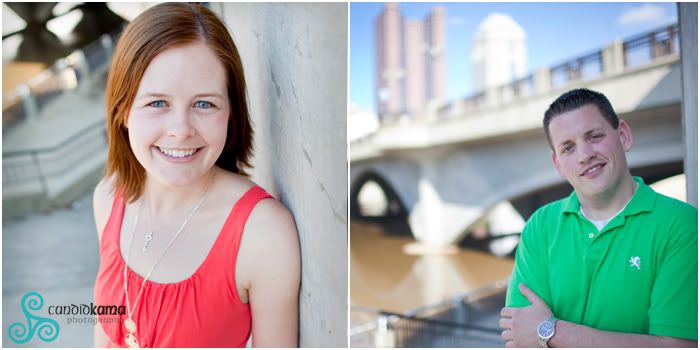 Melissa and Bob met me a couple of weeks ago for part two of their engagement session. We had met up for a snow scene in the harsh cold winter months ago. It was a little ironic how that day was so bitterly cold, and this day was so hot and humid.
Our goal for the meeting was to walk around downtown to get some ideas of where to go for their portraits on their wedding day. They are planning on doing the majority of their portraits prior to the ceremony, which really helps out the process of the wedding day. The couple doesn't have to feel so rushed to get back to their guests, and they can get right to celebrating sooner at their reception.
Bob and Melissa worked together and had kept their relationship private for some time cause they wanted their relationship to grow. As things progressed, they finally told their management the happy news.
Melissa told me how Bob tends to hunch over, so to be aware of that on the wedding day……I think he's just trying to get close to you!!!
Their wedding day is just a few short weeks away. They are having their ceremony
and reception at Station 67. I'm really excited to have the opportunity to shoot
somewhere new, that's always fun.
We are looking forward to walking the town with you and your bridal party and can't wait to celebrate with you on your big day!!