A few weeks ago, I was contacted by Kelly. She told me that her son would be leaving soon to join the Marines and they wanted to have some family portraits taken before he left. I thought that was such a sweet thing to do at such an important time in her son's life. We talked about where to meet up for her session and I couldn't hardly contain my excitement when she told me they wanted to have their session at their families farm in Waldo, Ohio. Not only was it a beautiful farm, but the old gas station still stands there today, weathered on a corner lot, surrounded by the fields of the country around them.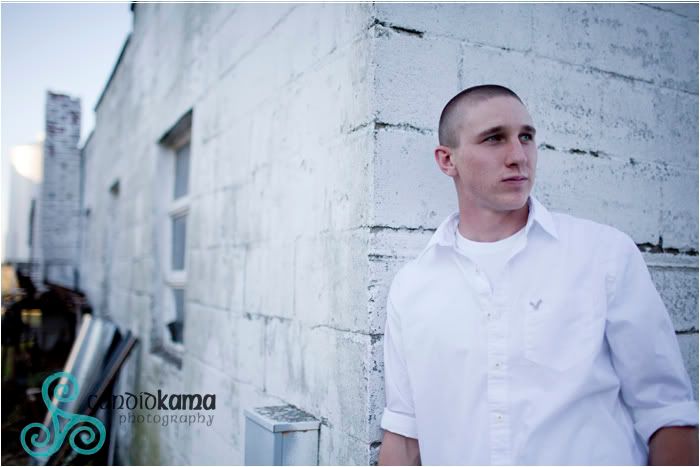 This is Brandon. He is 18 year's old and leaving for the Marines in just a few weeks. I have to say, when we were introduced, I was taken by how much a gentleman he was. He looked me right in the eye and he held my hand with a good firm hold. I think a lot is to be said for a small gesture like that. It's a bit rare in it's own.
The Station was originally opened in the 1920's by Mike and Nicole's great-grandfather, and was passed down to their grandparents in 1968 when it was used
strictly for farm equipment only until the 1990's when the underground tanks began to fail. It was said that their grandfather used to keep a bed tucked away in the store to keep watch over the tanks. You could find the giant candy bars and bottles of soda sold there back in the day for just $.05. Times have certainly changed. It's sad to see things that used to be fading from our memories. Such a rare site to see something like this anymore.
We had a lot of fun at this session and I was really starting to bum that the sun was going against me….it is that time of year now. But I was working as fast as I could to get everyone accounted for one way or another.
This is Logan who is 7, and his two sister's, Ella who is 2, and Kendall who is 1.
Corey is 17 and is a senior and Dillon is 16.
Mike and Nicole wanted to get a couple of photos of them alone cause they really didn't have a lot. That makes me happy cause everyone should have photos of themselves taken from time to time to document the years…..
Kelly and Mike having a little fun on the tractor…..
A clearly proud family……..
The next couple of photos I just love…..and thinking about his proud parents, I can only imagine that his family will look upon photos of him often from the time he was just a little baby to the young man he has become. I was so happy to be able to give them something to reflect on.
Are you thinking what I'm thinking? He's going to look pretty darn good looking in his uniform!
Thanks so much for having me to your family farm and allowing me to spend some time with you and your family. And best of luck to you Brandon in your future and your career. I know that you have a family that stands by you and a country that is very thankful for you just the same!