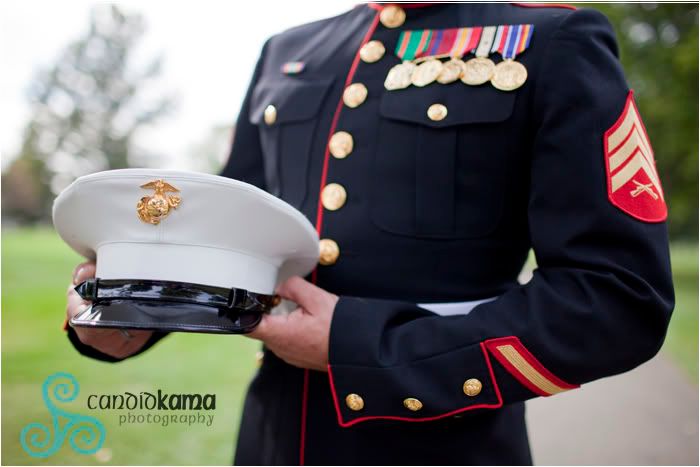 I'll let the picture above speak for it's self…..it's true what they say about a man in uniform.
Joe and Alex were married on September 18th at St. Peter's. It was easy to spot Joe, who was decked out in his Marine attire. He looked like the dashing groom-to-be.
As Alex was doing the final touches prior to the ceremony, she took a moment to read the words of her friends and family who wanted to express their happiness for her and Joe.
They had a beautiful ceremony with several of their loved ones.
The bridal party having a moment with the newlyweds……
Look at you Alex…I know you blew Joe away when he first saw you come down the aisle.
I hadn't met Joe prior to the wedding as he had previously been stationed in California and now at their home in Virginia, so it was great to meet Alex's other half. He was a really nice guy and yea, looks pretty awesome in that uniform……but hey, I said it to their face so it's not news folks….together they make one hot looking couple!
I've gotten to know Alex a little through the wedding planning and it's obvious that Joe means the world to her. I love the way she would just loose herself in his eyes. They just beam in each other's presence.
The reception was held at The Worthington Hills Country Club.
I love this image of Alex. It was a moment when I was actually taking photos of Joe and his groomsmen, but I happened to see her out of the corner of my eye. She has that look of extreme contentment and perhaps a sigh of relief after all those months of planning have come together.
One of the best speeches I've heard in a long time came from Joe's brother. He talked about how much it means to his family that Joe has chosen to serve and fight for his country. He added humor and much love to his words and I think everyone there felt the same.
During their first dance….Alex reached behind her to grab a hold of Joe's hands. Simple little moments like that are what make me love my job.
Congratulations Joe and Alex!!!