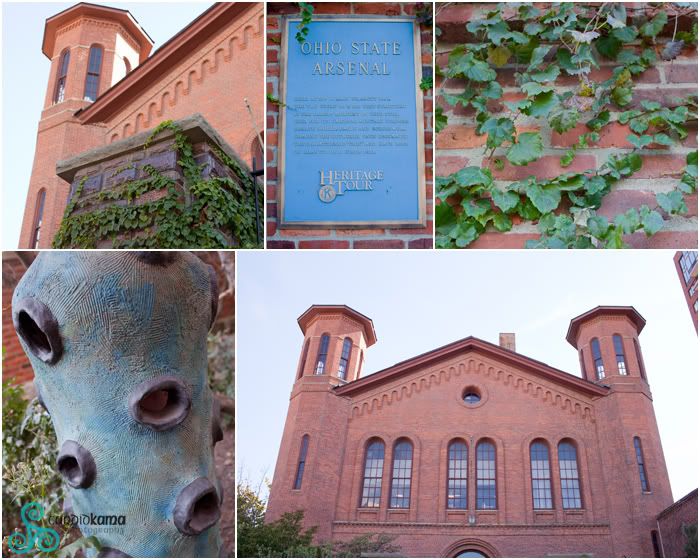 Rewind back a couple months, I took a phone call late one evening. It was Michelle calling from her home in Alaska. She was calling about seeing if we could photograph her wedding. We must have talked well over an hour. When I got off the phone, Marty had said it sounded like I was talking to my best friend….we were laughing and carrying on…..I would have to say, talking with Michelle, it was like chatting with a best friend. She's just that cool.
They were married at The Columbus Cultural Arts Center in downtown Columbus. I was really excited to shoot here as it was our first time at this location.
Meanwhile, Justin and the guys were getting ready at The Hyatt Regency Hotel. Justin was eagerly anticipating getting to the center.
Michelle and the girls all arrived ready to go. They had a little time to unwind before the ceremony began. I think over all, Michelle held it together well. She didn't seem overly nervous, just excited the day was finally here.
The rings they chose to as their wedding bands were so unique and colorful.
A dear friend of Michelle's made all the jewelry for Michelle and her brides maid's.
I had a chance to meet Michelle a couple of days before the wedding and we talked about some of her idea's for the day……we did a lot in a short amount of time, but as I've come to learn per each wedding, the day is full of events and consumption of time.
I love the use of leaves in her bouquet, something you don't see very often.
Michelle had said in our meeting before the wedding that she knew the moment would hit her when she met her father before walking down the aisle. She was right, but she got through it and held on tightly to his arm as they made their walk to Justin.
She just beamed the whole way.
They were married in the court yard under the tree, it was a fitting place for them to be.
The grounds around the Arts Center had plenty to offer for portraits. We strolled up
and down the alley way's with the bridal party and Michelle and Justin.
We made a quick little visit up the road to the new Main Street Bridge. It's the first single arched bridge in all of The United States and is constructed out of 3,765 tons
of steel. It's pretty impressive.
The reception was held inside of the Arts Center, giving guests a chance to take a look at some of the pieces on display.
The array of colorful flowers that Michelle and Justin used went so well with the art pieces. And they brought a little bit of Alaska back with them for all to enjoy…some fresh Salmon and Halibut.
It was a beautiful day, a very hot week for this couple coming out of Alaska. They enjoyed spending time with their friends and family, many of whom they hadn't seen in several years. They danced under the stars and set off to their honeymoon to Hawaii……..doesn't get any better than that!